Picture this: You wake up on your birthday. The air is rich with the aroma of freshly baked bread, and downstairs, you can hear your parents prepping breakfast. You shuffle into your slippers, race downstairs, and then - there it is, a massive structure in vibrant shades of black and red right in the living room. It's your very first encounter with a QUADRO jungle gym.
That was the delightful surprise that greeted young Henry on his fourth birthday, some forty years ago. This jungle gym seemed to have appeared out of nowhere, and little Henry was both stunned and curious.
But that curiosity soon transformed into pure joy. Throughout that day, he climbed the structure over and over, seemingly never tiring of it. In the years that followed, the QUADRO continued to be a staple in his playtime. It even doubled as a table and chairs when he became a teen.
In keeping with family tradition, every six months, Henry and his parents would remodel the QUADRO. It would find a place in the garden during the warmer months and indoors when winter set in. Nowadays, it's William - the son of Henry and Betty - who revels in the fun of the QUADRO.
Every day, when William returns from kindergarten, his joyous shouts of "Slide, slide!" echo through the house. And heaven forbid if someone - even his dad - occupies his slide! William promptly and adorably asks him to vacate with a polite "Daddy, please."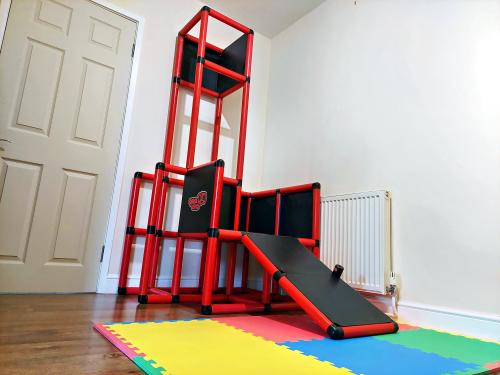 The family lives in England, where QUADRO made its debut around the same time as it did in Germany - over 40 years ago. The brand has become so popular that one might even spot a QUADRO set in the background of children's TV shows. Betty herself had fond memories of playing on a QUADRO structure in her childhood. When Henry mentioned a similar toy from his past, she instantly knew he was talking about QUADRO.
Betty was thrilled when Henry proposed constructing a playpen for their baby using QUADRO. The couple had browsed through several pre-fabricated playpens, but none felt right. They wanted something sustainable that wouldn't be discarded after brief use. A bit of online research opened up the world of possibilities that QUADRO presented for young families. With the help of his parents' old QUADRO set and the QUADRO computer program, the couple crafted the perfect playpen for baby William.
As William grew, the playpen evolved into a structure featuring a slide. Betty is constantly amazed at the durability of the QUADRO pieces, considering they're almost 40 years old. It fills her with pride knowing that they've passed down such a wonderful and eco-friendly toy to the next generation.
And as for William? He's perpetually joyful and eagerly anticipates the next transformation of his beloved QUADRO. His happiness is infectious, and we look forward to hearing more about his adventures with it.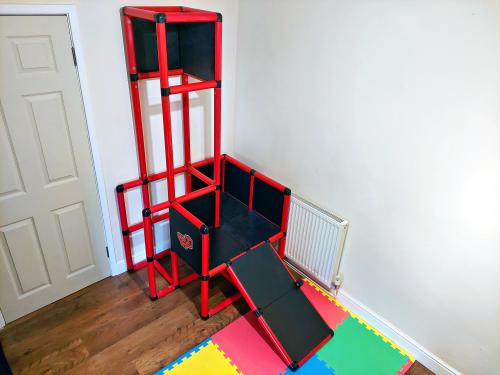 QUADRO has stood the test of time, and we've got more stories to attest to its longevity:
Sustainability in Action  
"Now my Son Wants a Princess' Castle too!"  
From our Photo Album: QUADRO never Rusts
Ever wondered why QUADRO transcends generations? Delve into the topic in our article, Built to Be Bought and Then Thrown Away: Planned Obsolescence and Why It Matters.
Do you have cherished photos and tales related to QUADRO that you'd love to share? Or perhaps some fresh, innovative ideas? We invite you to drop us an email at [email protected]. We'd be delighted to hear from you and might even feature your story. As a token of our appreciation, exceptional photos and stories could earn you discounts or complimentary products.