It all started at a unique playground where, along with standard play equipment, the little ones also had access to an ice cream truck, a kitchen, and a grill. Thomas's children played with them for hours, which sparked their desire for a bit of culinary fun in their own room. Of course, the parents were in agreement, if the boys wanted a kitchen, they would get one. However, they knew from their cousin who had recently received a pre-made kitchen that such toys were often forgotten after a few months. Thus, a better solution was needed.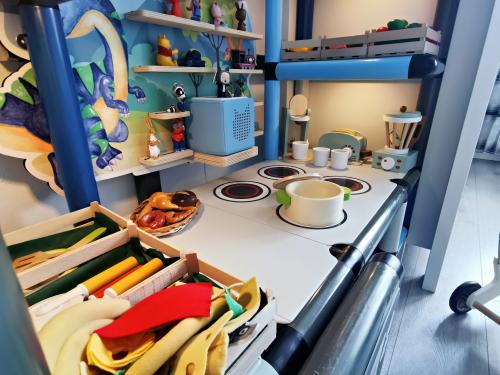 QUADRO to the rescue!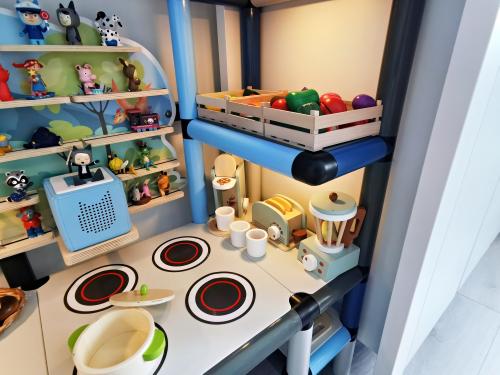 Together, they built an amazing QUADRO kitchen in a lovely Petrol color, complete with an oven, shelves, and even "real" stove burners. Thomas's partner, who works at a printing company, quickly designed the shapes for the stove burners, started the printer, and soon it looked like a genuine kitchen.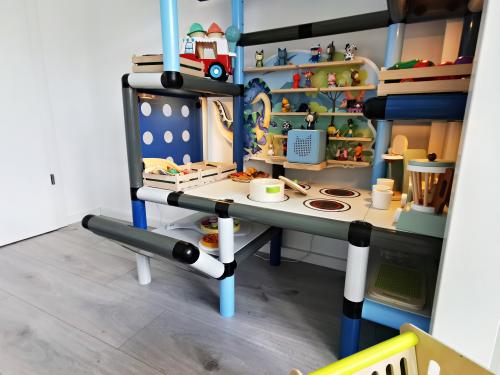 Tim and Finn are thrilled with the design, occasionally removing the burner plates and sticking them on the walls. Although it's not what was intended, it's creative. Luckily, their mom had the foresight to print extra plates, so they have spares.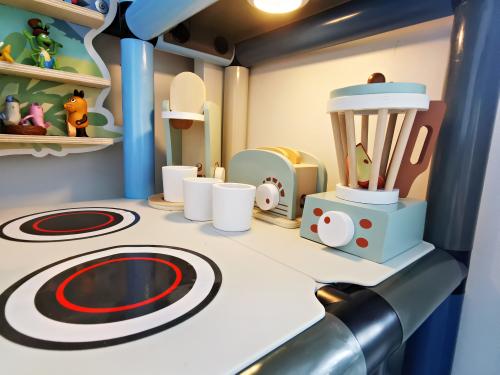 Yet, the family's QUADRO journey didn't start at the culinary playground, but traditionally at Christmas. Thomas and his partner had early on discovered their children's love for climbing, so the twins initially received a triangular wooden climbing structure (learn more about the importance of climbing for your children here: Jungle Gyms: The Perfect Way to Give Your Children's Development A Boost). The parents opted for something high quality.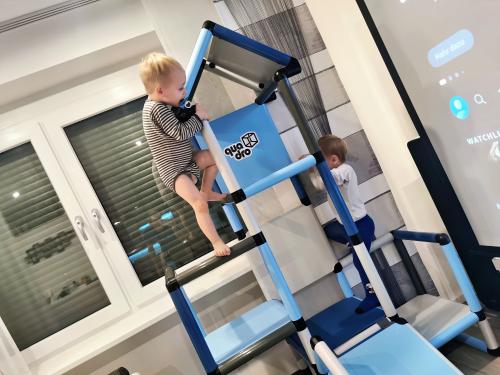 "You buy cheap, you buy twice," Thomas says with a grin.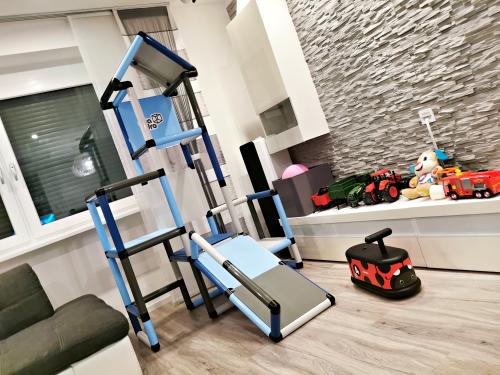 The climbing triangle was well-utilized and could be reconfigured to some extent. "But rungs remain rungs," adds the father. He came across QUADRO Home Edition, a product he recognized. Indeed, a QUADRO climbing frame has stood indestructible on the neighboring property for over 30 years; the neighbor is very satisfied.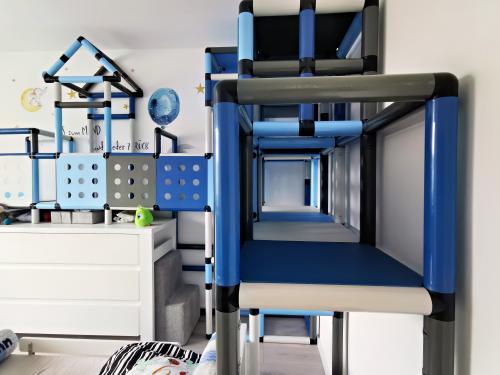 As a trained carpenter, Thomas loves modular systems that allow for personal design and creativity. With anything else, he quickly reaches his limits, causing not just him, but also his children, frustration. Since he renovated his own house almost single-handedly seven years ago, he's become increasingly creative with a thousand ideas. So, QUADRO was a perfect fit.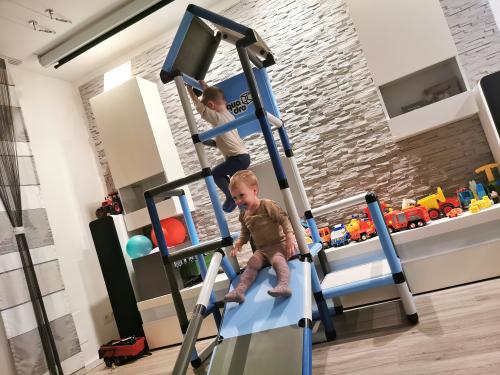 Initially, the climbing frame was in the living room, albeit somewhat in the way. It quickly moved to the children's room, straddling the two beds. Thomas wanted to maximize space utilization, as they only had 120 square meters available. However, a problem arose: the twins had never slept apart since birth, and the renovation negatively impacted their sleeping arrangements. One of the children started coming to the parents' bedroom earlier than usual. Something had to change!
So, they repositioned the beds together and built the frame around the corner for stability. It still stands sturdy, even though Finn and Tim are wild climbers. Their enthusiasm for climbing is such that they ascend the structures even before they're screwed together – something their parents don't allow due to safety concerns.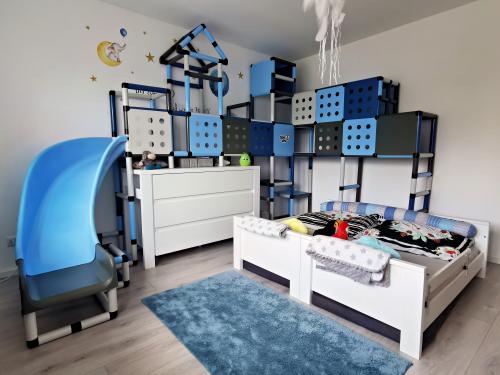 And when the setup no longer excites the boys, Thomas will ask them again: "Shall we build something new?" Perhaps the climbing frame in the bedroom will become a robbers' den. And the stylish kitchen could transform into a spaceship. Who knows...
We're certainly excited to find out!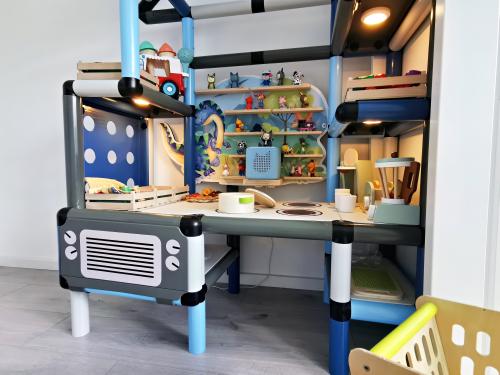 To understand why your little adventurers should play as much as possible, check out our blog post The Gifted Climber, or Why We All Need to Play.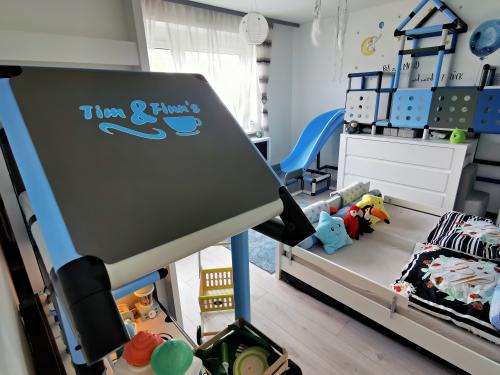 Do you have some exciting ideas you'd like to realize with QUADRO? Email us at: [email protected]. If we like your ideas, we'll happily support you with free materials or a discount.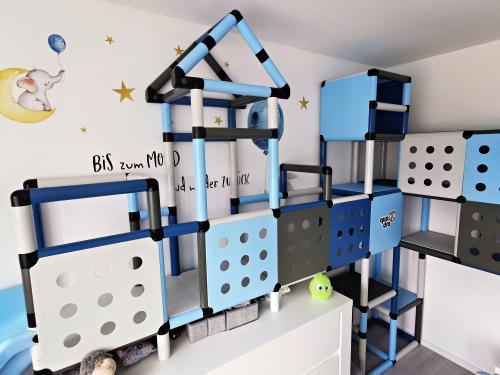 We look forward to your submissions!