Just like many expectant moms, Los Angeles resident Shuang was on the lookout for baby ideas long before her adorable Haisu was born. After seeing a friend's intriguing Instagram post, she couldn't help but ask about the creative setup on display. Of course, it was a QUADRO creation. 😊
Eagerly, she ordered her first kit, choosing the ever-popular Evolution in Mint. This particular kit is a favorite among the large Chinese community in North America. It includes an array of unique pieces, perfect for creating imaginative custom designs. With these, parents can build small steps to aid their little ones in their early crawling endeavors. Thanks to these distinctive components, the possibilities are endless: from baby strollers to ball pits, or toddler climbing models complete with baby steps, every design is finely tuned to the child's motor skill development.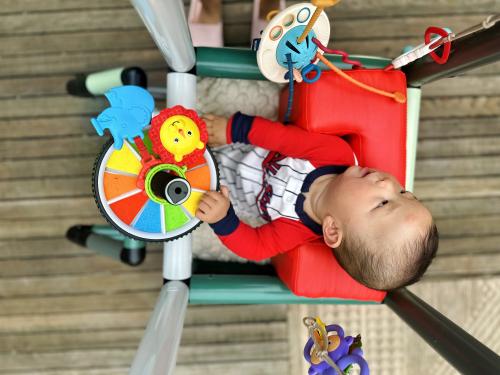 So Shuang built a small structure with mini slide from the model database when her son was four months old and could not yet crawl or sit. Haisu cried, though; he wasn't ready yet.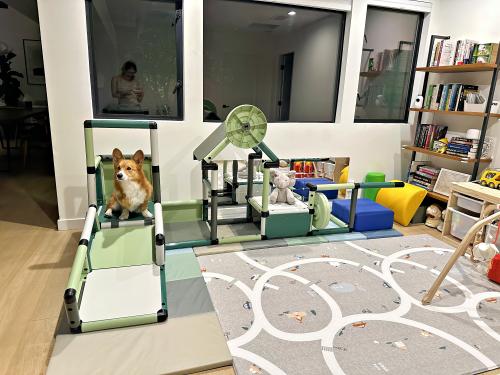 Shuang creatively repurposed her QUADRO kit, conceptualizing a baby stroller design. She drew inspiration from our model from the model database, as well as other online resources. Shuang first designed a cart that accommodated Haisu's current abilities. Then, using the spare parts, she constructed a learning tower and a children's corner. However, her little one didn't show much interest just yet.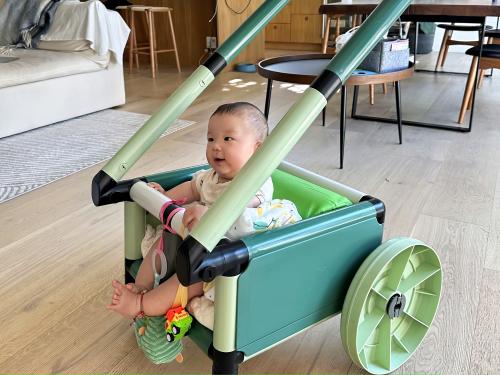 Next, Shuang decided to upgrade the stroller, making it more luxurious. She raised the seat to bring Haisu up to her and her husband's level during meals, ensuring he wasn't at the same level as the family dog. She also included numerous fun elements to keep Haisu entertained, like colorful mobiles.
Being resourceful, Shuang is a proponent of repurposing rather than purchasing new items. So, she cleverly converted her unused abdominal roller into a steering wheel. This colorful scooter had been lying around unused for months but found a new purpose as it fitted perfectly into the QUADRO tubes.
From his upgraded stroller, Haisu can now observe the world around him. Whether his mom is cooking or his grandmother is gardening, he enjoys a secure and comfortable spot in his cart. Even the family dog, Elfo, who once used the cart, might be a tad envious of Haisu's elevated perch.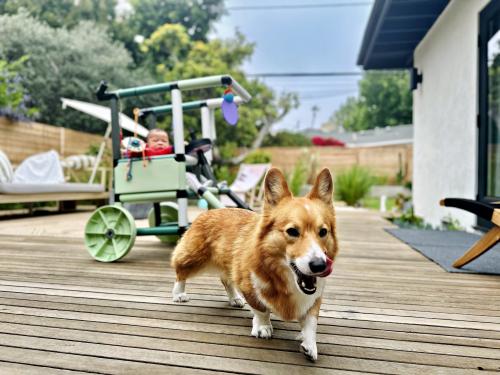 Shuang received a lot of positive feedback for her construction from the community. Many Chinese families worldwide appreciate QUADRO for its educational value rather than just noise-making, purposeless toys. Chinese parents are especially passionate about enhancing their children's development, not just physically but overall. QUADRO is ideal for this purpose.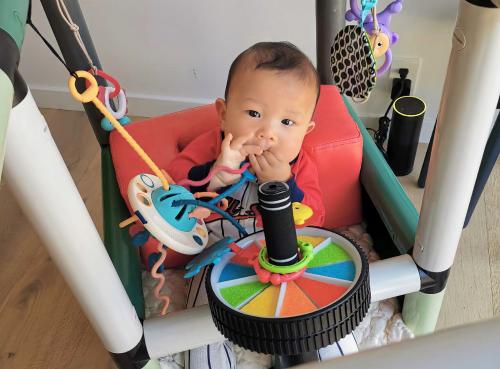 As a result, parents within the community are eagerly exchanging QUADRO ideas beyond what's available in our model database. Anytime a child makes a notable progress with a specific construction, like standing up independently, the achievement is instantly shared with other parents. Naturally, they are eager to replicate these successful designs.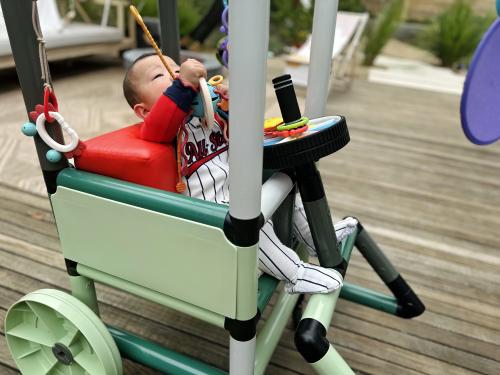 They've caught wind that the community is abuzz about our article featuring Shuang. Through her, we've connected with a family from Nanjing. Soon, our readers will discover what Chinese parents love about QUADRO and their innovative ideas.
In the meantime, Shuang remains an avid fan of her QUADRO Evolution kit and eagerly anticipates more creative constructions. She aspires to introduce her son to climbing - a hobby shared with her husband - and what better way to nurture this interest than with QUADRO.
We wish the entire family endless hours of exciting creativity with their QUADRO Evolution. And we hope Elfo, the family dog, also gets to enjoy some fun creations. 😉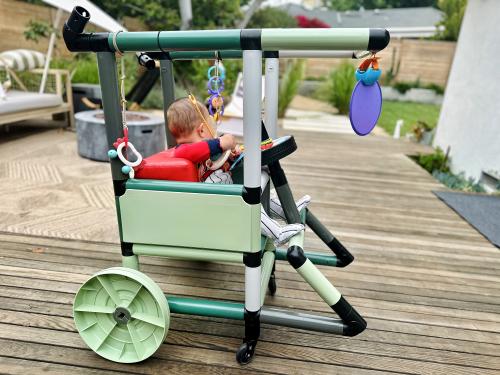 To understand why climbing is so vital for children's development, don't miss our article Jungle Gyms: The Perfect Way to Give Your Children's Development a Boost.
Do you have unique ideas you'd love to bring to life with QUADRO? Feel free to email us at [email protected]. If your ideas resonate with us, we'd be delighted to provide free materials or a discount.