A children's play delving into themes of freedom, rebellion, and nutrition, with QUADRO at its heart.
Initially, the troupes from "Die Stromer" and "Theater Lakritz" considered a piece by Erich Kästner. However, they settled on the story of Robin Hood — a beloved character from their childhood — recalling the Disney version where Robin is portrayed as a fox. Maid Marian's assistant is depicted as a lively chicken, engaging in activities like badminton and possessing a wide array of interests. The idea evolved to set the entire play within a chicken coop, leading to a captivating one-hour play tailored for elementary school children.
With the story's foundation in place, a flurry of decisions had to be made: Which songs would accompany the scenes? How should the chickens and their costumes look? What would be the ideal stage design?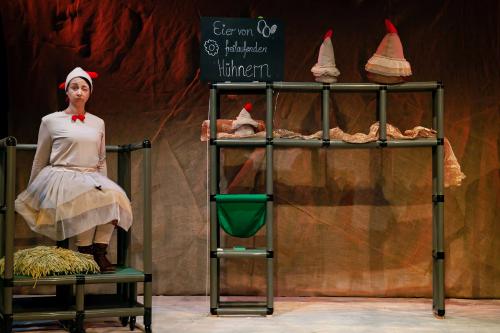 The "Theater Lakritz" duo, parents to three kids aged one, six, and ten, spoke about vibrant climbing structures they frequently saw in yards and gardens — QUADRO's designs. The proposal to use QUADRO's modular system for the stage was brought up.
While everyone loved the idea, concerns arose about its durability. Could QUADRO support adults, given that it's primarily designed for lightweight children? They decided to give it a try, ordering two construction kits for a test. Unsurprisingly, QUADRO surpassed expectations.
"Die Stromer" approached us, wondering if we'd be interested in collaborating on their theatrical project. And we were absolutely on board!
They envisioned a versatile backdrop. Our HOME series was the perfect match. The main stage was set up with Dark Grey scaffolding, while the farmer's residence gleamed in soft Mint hues.
The plot unfolds as Marianne, the chicken counterpart to Maid Marian, enjoys a peaceful life in farmer Leonie's coop. Yet, turmoil strikes when the kind-hearted farmer is replaced by her ambitious sister, who's keen on maximizing productivity, introducing a larger "chicken pen". Marianne's contentment is shattered.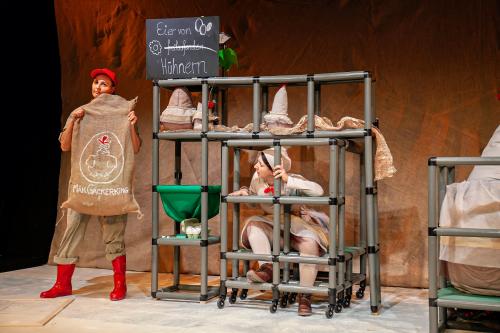 Enter Robin Hoon, portrayed as a free-spirited forest chicken. He learns of Marianne's distress, orchestrates a coop break-in, and together, they plot a grand escape to the liberating forests.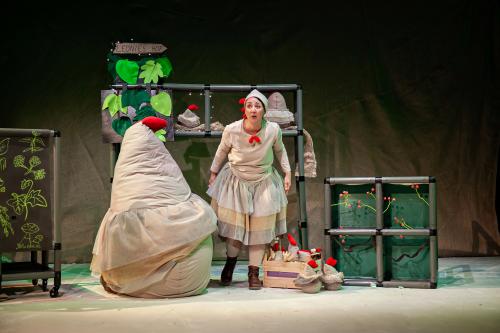 The beauty of using QUADRO as a prop becomes evident. The sets can be swiftly reconfigured: one moment Marianne is free; the next, she's caged, all accomplished by rotating the mobile QUADRO scaffolding. Transitioning scenes from the coop to the forest and vice versa was seamless.
The production was a hit! Such was the enthusiasm that an additional preview was scheduled the very same day. It concluded to applause from a packed audience of elated young theater enthusiasts.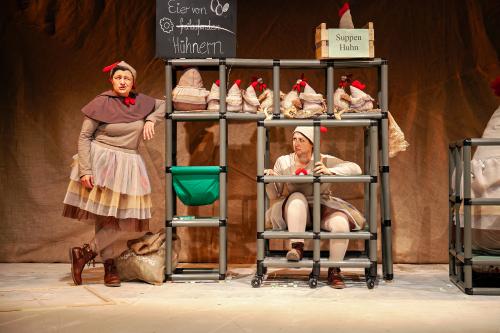 Soon, this dynamic play will travel to schools, kindergartens, theaters, and community centers. The lightweight QUADRO set makes transportation a breeze — it's easily disassembled and reassembled. This ensures Robin Hoon is always ready to champion a better world for chickens on any stage.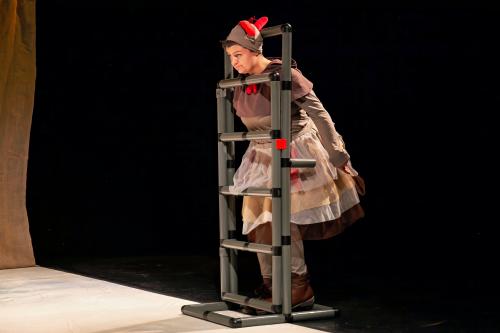 We root for Robin Hoon's continued success and hope that the two theater groups captivate countless young audiences in their future shows.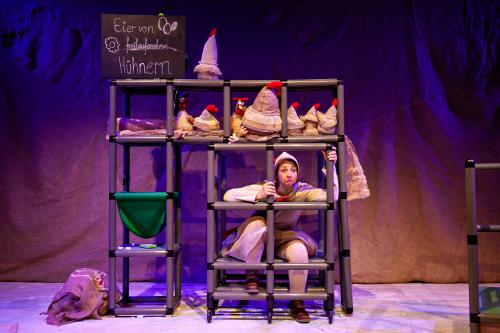 Using QUADRO as a stage prop isn't novel. A ballet troupe has incorporated it for years, enhancing their performances: Unleash your Dance Moves with QUADRO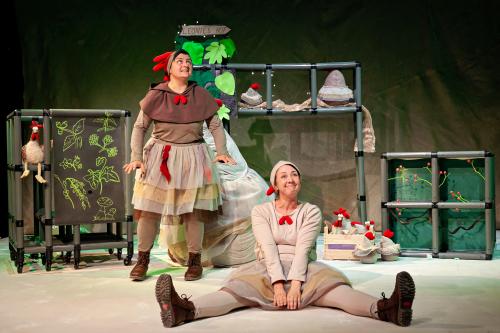 Are you also part of a great project that we could support with free material or a discount? Feel free to contact us: [email protected]